It's time to get ready for the Spring!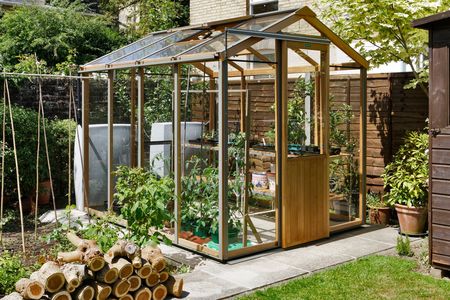 It may not seem like Spring is just around the corner with all this bad weather we are having. However, it is and it's approaching fast! Gardeners all over the country are beginning to pick up their tools and get stuck into preparing their gardens ready for Spring.
If you are making this the year to really improve your garden then a greenhouse is the perfect investment for you. Once installed greenhouses are the simple and easiest way to grow healthy, strong plants and vegetation.
At King Acre Swansea in Pontarddulais we are stockists of the very popular Alton greenhouses.
Who are Alton greenhouses?
Alton greenhouses have been famous amongst gardeners since 1921. They are well known for their amazing quality Canadian red Cedar which gives Alton greenhouses a long life and stable frame. The Alton design team have been using their experience and knowledge to create the best possible Cedar greenhouses for the 21st century. We are very proud to be a supplier of such a fantastic product.
Our Top Pick… The Alton Evolution
The Alton Evolution has a distinct smell of Western red Cedar the minute you walk inside the greenhouse. It is a pleasant aroma which has the added benefit of pests dislike the smell. This is one of the main reasons Cedar is famous for greenhouse making.
All Alton Evolution models are packed with practical
features. These features improve the life span of the greenhouse. Some of the
features include, roof panes that overlap the timber slightly and the metal
base keeps the timber off the damp ground. This is eliminating two of the old
trouble spots where water would eventually rot the Cedar.
Also included are automatic roof vents that release warm air
out of the top of the greenhouse whilst the cooler, fresh air is sucked through
the louvre side vents to produce perfect ventilation.
Currently we have the Alton 6' x 6' Evolution complete package on display in our show yard within Pontarddulais Garden Centre. This will give you a feel of the quality and style of Alton's Greenhouses.
Features
Western red Cedar
Extremely strong frame
Toughened glass
Sliding door
Free 10 Year Guarantee
1 x roof vent (automatic opening)
1 x Louvre vent
Down-pipes both sides
Low level threshold
Screw in cedar bar capping system
Installation available for a fee
We have a catalogue on site for you to have a look through and we will be able to answer any queries you may have regarding the Alton greenhouses.
If you are not living in the Swansea, South Glamorgan area,
don't worry you can still order your Alton greenhouses from us. Just give us a
call and our staff will be more than happy to answer any enquiries you have.
Contact Details
Email: swansea@kingacre.co.uk
Telephone: 01792 885959
---